---
It is really very simple:

BARCODES = LOWER POSTAGE & FASTER DELIVERY.

Automated Mailing - Always at the forefront when it comes to mail preparation.
FIRST PRESORT BUREAU IN VIRGINIA:
to provide automated barcoding and presorting services to its customers.
to receive the Automation Partnership Award from the USPS.
to offer FASTforward as a means of identifying changes of address.
to earn United States Postal Service certification for quality.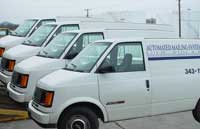 THE PROCESS:
We pick up your mail on a regular schedule.
Utilizing the latest in optical character recognition, we are able to read a variety of address fonts.
Eleven digit, delivery point barcodes are applied.
Mail is sorted to appropriate zip code destinations.
Mail is trayed, tagged, and delivered to the USPS.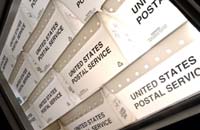 THE RESULT:
Accuracy enhanced through quality procedures.
Forwarding of mail through FASTforward technology.
Faster delivery achieved through presorting to bypass processing by the Postal Service.
Greater postal discounts through commingling of mail.